EBC Yellowstuff™ Brake Pads
A high friction pad that works from cold and self seats after install due to its applied brake-in surface coating. Although the new Yellow grade WILL work fine under light track use or drifting it does take longer to bed in and if track driving is your main purpose, choose Bluestuff or the new RP1 and RPX ranges or allow extra time for bedding your brakes in.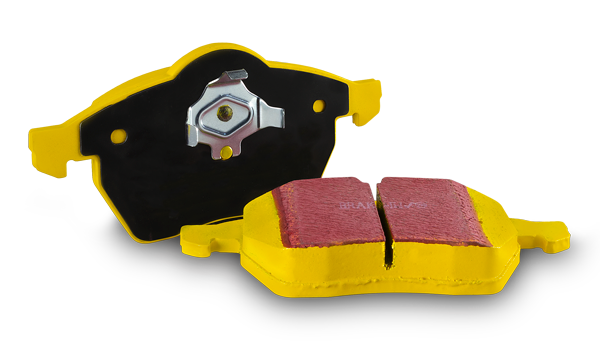 High Efficiency 
Performance
EBC yellows are ECE Brake safety tested which means they must work perfectly from cold at least as good or better than stock pads.
When Yellowstuff see some heat (which is not tested for in the ECE R 90 brake safety regulations) they really show their pedigree. On Japanese cars built with lower friction FF-rated pads these deliver a full grade higher stopping and on German cars built with GG these are about the only aftermarket pads that will match or beat the pretty good German OE spec pads and that takes some doing.
High-efficiency performance pad for high friction and improved stopping power.
Not only a high friction pad but very resistant to heat and lots of heavy braking means that Yellowstuff has been used with great success in fast street cars and Police vehicle brakes alike.